We will be hunting every Sunday until the beginning of April. Wet conditions are making scheduling difficult at present, however meet details will be posted to the website as soon they become available.
All meets are at 12 noon unless indicated.
The cap for hunting is £45 adult and £35 for under-18s.
Black or navy coats; horses should now be plaited or hogged, hip flasks permitted. All welcome.
Jumping is optional. We have a second non-jumping field and there is always as way round.
Friday 26th December: Ashbourne Market Square
This is a mixed day of hedges, rails and hunt jumps. The perfect way to work off that Christmas pudding! Do come and support us at this lovely meet in Ashbourne's Market Square us even if you can't follow on horseback. All jumping is optional.
Sunday 28th December: No Meet
Thursday 1st January: TBC
Sunday 4th January: TBC
If you have never hunted with us before, please take a moment to read our basic guidelines, what to expect and hunting terms. If you have any general queries prior to a hunting day, please email:
This email address is being protected from spambots. You need JavaScript enabled to view it.
Fours Shires' update number: will give the current status of a forthcoming meet - but please note it does not take messages. If a meet has had to cancelled because of weather conditions, or the venue changed, you can check the status on the morning by ringing after 9.30am:
07967 932583
If you have any queries prior to a meet day with regard to type of meet, jumps etc then please call Chris Kane, MBH, on 07854 412370 who will be happy to talk to you. Email: This email address is being protected from spambots. You need JavaScript enabled to view it.
2015 Calendars Available Now
All profits go to support our lovely hounds.
Available at all our meets and from Tracy Muir Photography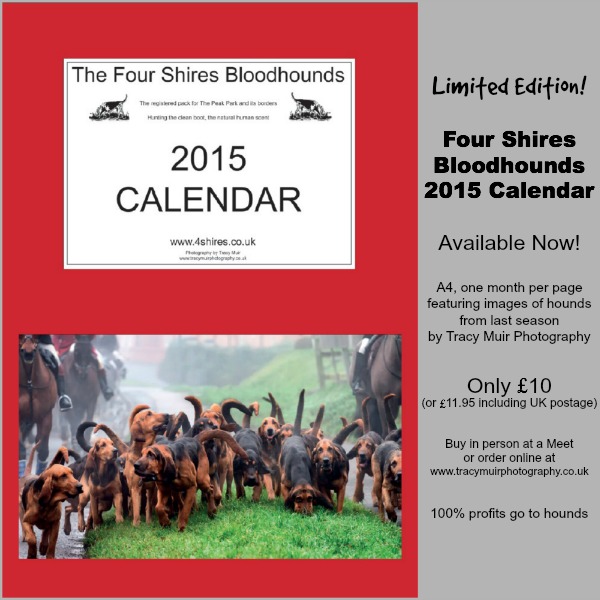 Tracy Muir has taken some wonderful photos of meets this season. You can see more at her website, www.tracymuirphotography.co.uk.