New Four Shires Clothing Available - the perfect Christmas present.....
The Hunt Supporters Club now has some new clothing available - including polo shirts, fleeces, jackets, beanies etc.
Please click here for further details on the items and also to pre order. For those items showing as available, they will be available for collection at either the Kirk Langley or Thornbridge Hall meets. This is subject to availability, so don't miss out get your order in now.
Also don't forget we also have horses knee boots available to purchase (collection from any of our meets). Click here. Or ask Ruth Fisher or Deb Kane at any meet.
Knee Boots now available to buy
The Hunt Supporters Club now have horses knee boots available to purchase. Designed and produced by Pip Clayton (a hunter herself), these are available to purchase for £30 from any of our meets or online (collection to be from any designated meet).
Please ask Ruth Fisher at any of the meets if you wish to purchase a pair, to purchase online click here or for further details on them please contact Ruth at This email address is being protected from spambots. You need JavaScript enabled to view it. .
Thank You & Update
A big thank you from Chris for all your supportive messages, concern, offers of help and general well wishes. He's very touched by all the support shown. It shows what a great hunt we have :-)


For those that are unaware, Chris had an unfortunate accident on the way home from hound exercise on the 20th when his horse slipped over on the road. He is a toughie and will on board on the 27th.

In the meantime, we really appreciate the offers of support and will be in touch as and when required. Let's kick on!
Congratulations to Sally Wood, Deb Kane and Deb Glennan
Congrats and well done to Deb Kane and Deb Glennan who came 4th in the Pairs section, and to Sally Wood who came 2nd (missing out on 1st by three tenths of a second) in the Intermediate, at the National Hunter Trial Championships at Eland on Sunday 6 October. A great achievement considering there were originally 10,000 entrants over the whole country!
In the words of Deb Kane "It was mint!" :-)
Now let's get hunting!!
Would you like a portrait of your favourite animal?
If you would like to commission a portrait of your favourite pet, then please contact Ms Lizzie Shuttleworth for further information on 01433 650588 or email her at This email address is being protected from spambots. You need JavaScript enabled to view it. .

Please see her website for further pictures and info at www.lizzieshuttleworth.com
Read more: Would you like a portrait of your favourite animal?
Masters' Response to Open Meeting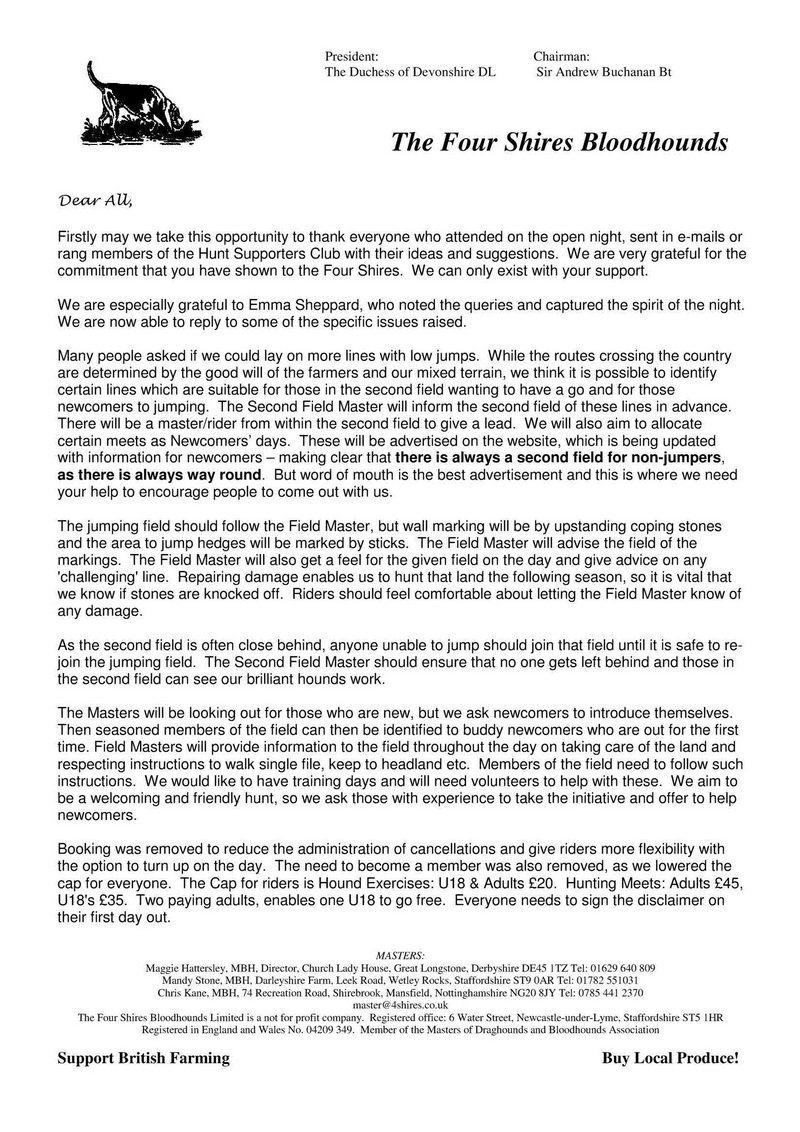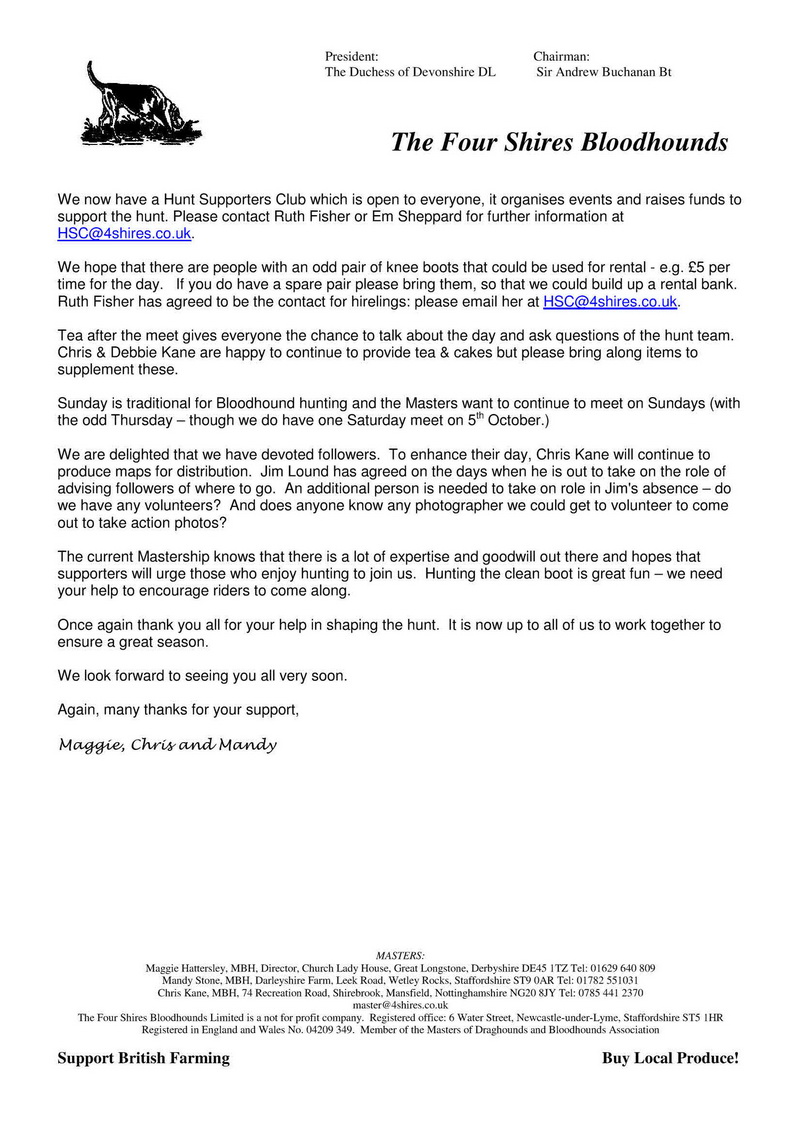 Big Thank You to Lorraine Moon!
We'd like to say a HUGE thank you to LORRAINE MOON (the horsey hairdresser!) for her support. She has donated £841 to us from her fun and hugely successful Hillbilly Hoedown held on Saturday 29 June 2013. It is very much appreciated and will be put to good use for the upkeep of our lovely bloodhounds.
Thanks to all those that attended and supported this event. For those that didn't, you missed a good night - so don't miss out next year!
Our Bloodhounds at Crufts - see Video
Please see link below to watch our hounds in action at Crufts, as well as our Huntman, Heidi Critchlow, our amateur whipper-in, Ruth Fisher and Leonarda is commentating. We are featured at approx 7 mins in.
New Photos in the Gallery; our field masters in H&H
New photos have now been uploaded to the gallery, including Sandbeck; Crufts 2013 and Tissington. Our Field masters, Fi Davidsson and Bruce Langley-McKim were mentioned in the Quorn meet report in the 14th march edition of Horse & Hound, as was visitor, Claire Bennet. Fi was thanks for her nannying of H&H's, hunting editor, the plucky Catherine Austen. 'Thruster', Fi is also featured in Eventing Magazine.
Horse and Hound article- Our Hounds at Crufts!
Please click here to see the article in H&H.
Hunting's most eligible bachelors...
According to Horse & Hound our field master, Bruce Langley-McKim, is one of the horse world's most eligible bachelors.
Photos from Organ Ground now available in Gallery
Photos of Organ Ground kindly provided by Leonarda Pogodzinski are now available in the gallery.
Netherton Hall Photos Now In the Gallery
Photos from Netherton Hall, kindly provided by Ray Armstrong and Sarah Fletcher are now available in the Gallery.
Our hounds feature in Hounds magazine
A magnificent oil painting of this remarkable hound by JUNE LESLEY FOX tops the article.
Thruster of the Week - Fiona Davidson
Congratulations to our field master, Fiona Davidson, who has been chosen as 'Thruster of the Week' in Horse & Hound.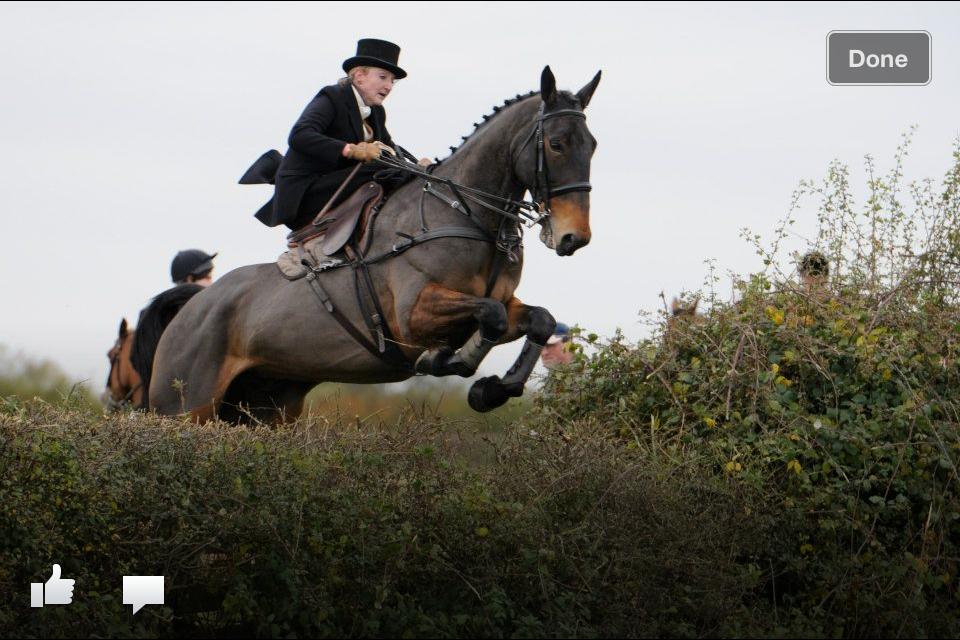 Welcome to our new Field Masters - Fiona Davidson & Bruce Langley-McKim
We'd like to introduce and welcome our two new Field Masters for this season:
Fiona Davidson and Bruce Langley-McKim.
We are delighted that they will both be Field Masters for the Four Shires this season and look forward to us all having some cracking days with them.
Please click the read more button below to find out more about both of them.
Read more: Welcome to our new Field Masters - Fiona Davidson & Bruce Langley-McKim
Check out our Meets and Events Page
Please check our Meets and Events page for upcoming Meet details and social events...... we look forward to seeing you soon....
Puppy Photos
Some great new puppy photos have been kindly provided by Wayne Haycock, Leonarda Pogodzinski, and June Fox. Further photos are available in the gallery. Dazzle recently whelped five and a half couples by Regal. Evie's three couple of spring puppies look to be our most promising litter yet.
Fancy being a quarry?
We are always on the look out for new quarries. In order to be a quarry you need to have a good level of fitness, run regularly over ever changing terrain (marathon or fell runners are ideal) and be prepared to be licked (by the bloodhounds only we promise!) on being caught! A hunting day covers approximately 12-20 miles in 2/3 hours.
So if you fancy being a quarry for the day and being chased by our lovely bloodhounds, then please contact our Quarry Co-Ordinator, Andy Best at This email address is being protected from spambots. You need JavaScript enabled to view it. . Andy will also be able to answer any queries you may have about being a quarry as he has experience of being one.
BBC Countryfile's Ellie Harrison told H&H: "Getting chased by a pack of bloodhounds was a first for me and I found the experience exhilarating, terrifying and exhausting.

"The approaching sounds of the hounds baying, riders, the horn and the ground thundering behind them are a very effective way to improve your fitness rapidly!"